If you don't find what you are looking for on this page, using our

search above will find what you need.
This page is a work in progress, but I have added some interesting info and some of my favorite pics of the old Bang Bus! Give me some time, the site will be great!
A Brief History of the VW Type II Bus

The birth of the VW Type II (Type I being the Beetle) arose after World War II when the British found themselves running the VW factory in Wolfsburg, Germany. Ben Pon, a Dutch VW importer, saw the motorised trolleys built using stripped down Beetle chassis and running gear taking parts around the vast factory in 1947. He sketched a design for a beetle-based van, which looked rather like a box on wheels, after he was inspired by these rudimentary but ingenious vehicles. Heinz Nordhoff took on this idea a year later when he took over as chief executive of Volkswagen and the first VW van was launched at the Geneva Motor Show in November 1949.

The series production of ten vehicles a day began on 8 March, 1950. The basic design remained the same for four decades of production and over five million buses were produced over that time1. The forward control vehicle with rear engine and box-shaped body filled a gap created in the market in Europe after the War. There was a lack of simple but sturdy vehicles for transporting with a high degree of flexibility and low costs. The Type II filled this niche.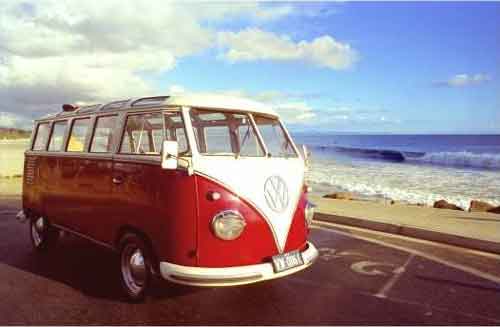 The Distinctive Sound of an Air-cooled Engine

The first generation of Volkswagen buses were built from 1949 to 1967, and are known as split-window buses or 'splitties'. Buses built after 1967 are known as the 'bay window models'. Where these offspring may lack the personality of the originals they feature modifications including winding windows and a top speed of 80mph. After 1979 more modern versions were developed and these became known as 'wedges'. For the original Type II devotees the charm was lost and the cosy camper had become a bungalow on wheels.

The splitties sported a split windscreen (obviously) along with a sweeping v-line front and a large VW emblem. These buses were 170 cubic feet (about 4.8 cubic meters) in volume and were spacious enough to hold a 15-hand horse. The bus had the engine and axles of the Beetle but had a unitary construction supported by a ladder frame instead of the central frame platform. The payload was roughly 750kg and the engine had a cubic capacity of just over 1100cc with an output of 18kW at 3300rpm (very low!)2. The terms 'ladder frame' and 'central frame platform' refer to the construction method of the chassis. The ladder frame is two longitudinal parallel girders or beams upon which the suspension, engine, transmission etc are mounted (hence the name). It is good for carrying direct loads. The handling is poor, partly due to a lack of torsional stiffness so it performs badly when cornering. The central frame is made of a central spar with ribs to which the engine, suspension, body and so on are attached. The load carrying capacity is not high, but the torsional stiffness inherent in the design ensures that the handling is good. This contributed to the poor handing of VW Type IIs but also explains their usefulness as transporters.

The VW Transporter can carry up to eight people and the two rear rows of seats can be removed in order to transport greater loads. As the design was so elementary, VW turned out 90 different body amalgamations over the first five years. These variations included buses, pick-ups, fire engines, ambulances, beer wagons, refrigerated ice-cream vans, milk floats, mobile butchers shops, bread vans, mobile grocers, ordinary delivery vans and the more familiar camper (the last variation).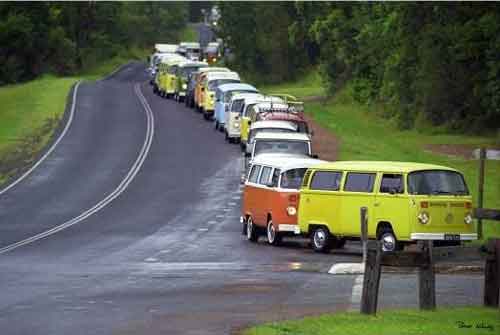 Developing the Splittie

The Splittie is regarded by enthusiasts as the zenith of Type II production and during the 18-year production period there were a great many developments. Splitties came in many guises; barn door, panel, kombi, standard, deluxe, ambulance, single and double cab, walk-through, double door, semaphore and safari are just a few

In 1949 the First Type II was introduced called the Bulli (meaning 'Workhorse') and came in Kombi and Panel van models. The Microbus was introduced in 1950. This had nicer upholstery, two-tone paint, engine adjustments and the shape of front bumper changed. The big cast aluminium 'VW' logo appeared on the front and back

1951 saw the introduction of the Westfalia camper model. Westfalia is a coach building company located in a German town of the same name (a separate company from VW). However, the words 'VW', 'Camper' and 'Westfalia' are mutually exclusive. The camper van took off due to its characteristic tiny fittings and furnishings to epitomise the home from home. Its popularity continued as the van was adopted by 1960s counter-culture. Features such as a longer dashboard with radio and clock were added about this time along with chrome trim on the body. The Ambulance model made its debut with a rear-opening door.

In 1952 the single cab pick-up appeared and in 1954 the engine size increased to 36hp. Around 30 more versions of transporter were available, including the delivery van and ambulance.

Four years later saw the introduction of the double cab pick-up model and by 1960 the wide-bed pick-up trucks became available on special order. The high roof delivery van was also produced about this time.

During 1963 the engine size increased to 1500cc and also the sliding side door became available as an option. In 1967 the electrical system changed to 12 volts before the new type (bay window) was introduced.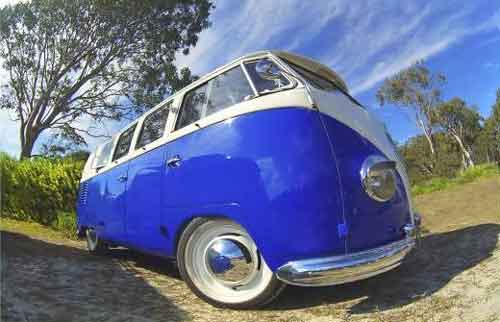 To Bay and Beyond

The split-screen was replaced in 1967 by the bay window version. The bay made the Type II a big triumph and by 1975 the Hanover factory had built four million of these vehicles. A range of larger engine sizes became available (1600cc, 1700cc, 1800cc and 2000cc) and the buses became far more reliable.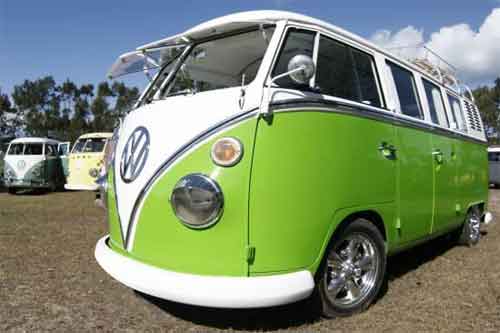 Still Groovy!

50 years on, VW buses are as popular as ever, and they are enjoying a renaissance among the surfing community (as well as others). Presumably this is because they offer copious space to store boards, equipment and friends along with a cool sense of freedom. The bus owner must be prepared to frequent second-hand specialists for parts and to spend a great deal on fuel (expect no more than 25 miles to the gallon) but the rewards are great. There are also numerous customisation opportunities including lowered suspension, tinted windscreens, adding a V8 engine and the groovy paint job.

There are now plans afoot to develop a new generation of bus in the same vein as the new Beetle. Called the Microbus, it is to include a table with games console and Internet access and a camera at the rear above the license plate. The actual engine spec and performance are not yet at fruition.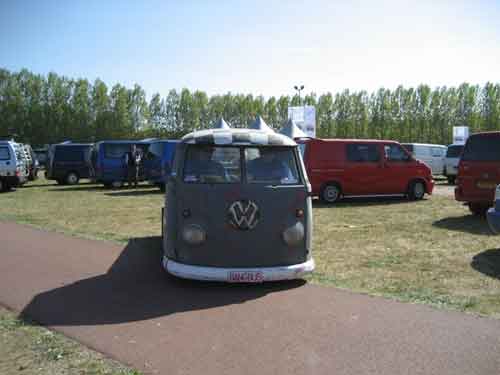 In South Africa a Kombi is a Kombi is a Kombi.

Any year, any model - if it is a Volkswagen van it is called a Kombi.

However, around the world plenty of other names, nicknames and sub-categories are used, including: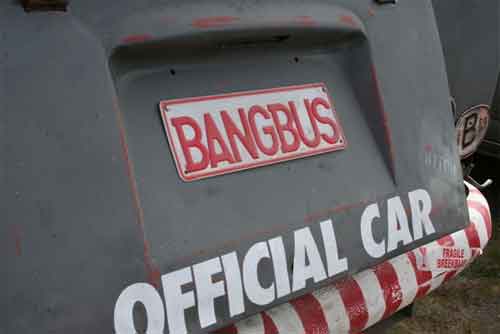 air-cooled
also indexes
ablakos
bang bus
barndoor
barn-door
bay-window
bay
big window bus
breadloaf
brick
Bulli
Bully
bussie
camper
campmobile
Combi
Combi Asesina
Combie
cucumber
dak dak van
dub bus
early bus
eurovan
fat chick
felsindexes
fillmore
fuck truck
hippie bus
hippie-mobile
hippie van
hipisowka
hippy bus
hippy-mobile
hippy van
Junakeul
klaippari
Kleinbus
Kombi
Kombinationskraftwagen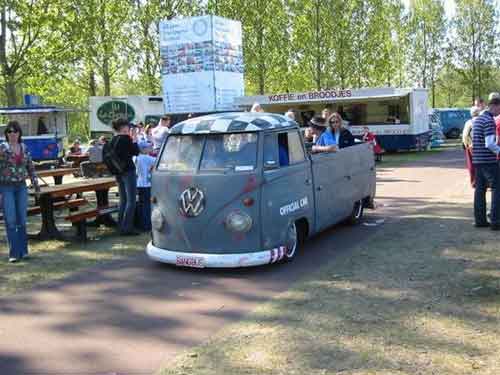 late bus
loaf
magic bus
microbus
mini-bus
ogrek
osztott
pano
panobus
Pano-de-Forma
papuga
pop-top
Rugbrad
Rye bread
samba
shaggin wagon
sin bin
skinny chick
smoerrebredd
spijlbus
split windscreen
splittie
splitty
Stabbin' Cabin
Transporter
Type 2
T1
T2
T2a
T2b
T3
T25
vanagon
vee-dub van
volkswagen
volkswagen van
volksie van
volksy van
VW-Bus
VW Camper
VW Kleinbus
VW Transporter
wedge
Westfalia
Westfalia-Werke
westie
Westy
woppy-mobile
wraparound
3-window
11-window
13-window
15-window
21-window
23-window.
Primary sources for the information above are gratefully acknowledged:

The Volkswagen name page, http://www.vwbusstop.demon.nl/vwnamepage/

Wikpedia, http://en.wikipedia.org/wiki/Kombi

BBC: http://www.bbc.co.uk/dna/h2g2/A649181

Contact: webmaster@bangbus.co.za for any suggestions.

This site should be of interest to people looking for:
motoring news, car information, search car, motoring magazine, wheels, minibus, motoring information, car site, pimp my ride, vehicle restoration, motoring enthusiast.